TNJ Campus
TNJ currently operates at three locations, Pal, Adajan & Vesu, strategically located within Surat city. The main campus at city heart near L.P. Savani Circle is about 20 kms from the Airport and about 20 kms from the National Highway; The Adajan campus is about 1km from the main campus, wherein the Vesu Campus is about 5 kms form the Airport and 35 kms from the National Highway.

Main Building
All campuses have well lit & well ventilated buildings interspersed with playing fields for recreation. Both campus houses dedicated Reception Area, Main Office, Staff Room with Separate Classrooms classified by activities or themes. All Classrooms are spacious, safe with encouraging graphics and equipped with all required educational aides.

Books
The TNJ schools houses dedicated library and is being frequently updated with newer & better books. The competent team regularly evaluates the effectiveness of new titles and publication before introducing.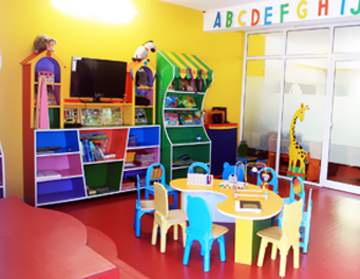 Salient Features:
A PROGRESSIVE English Medium Pre-School- ISO certified School , Managed by Professionals from IIT and child Experts .
The School provides excellent opportunities for the harmonious development of a child.
Excellent Academic Standard.
Comprehensive Physical Education Programmes
Human Values & Character Building Stories.
Audio Visual Facilities
Reading Corner / Story Telling Area
A large number of Curricular & Co-Curricular activities are offered.
Excellent Toy Kingdom with ample educational aids to enhance your child's development (Gross & Fine Motor Skills).
Educational Field Trips are designed with reference to the Curriculum to give exposure to the real life application of Lessons.
Shloka –Chanting-Meditation is the integral part of TNJ Philosophy.
Complete campus area is equipped with CCTV cameras & Speakers to monitor the activities.