Known to mould traditional values into a modern, real-world context, TNJ prepares students to get set out on a journey of academic as well as personal excellence. The institute is founded and managed by Child Experts. It imparts the finest education to its students balancing it with extra-curricular.
Cultural activities and interactive sessions
As the essential part of childhood is free spirit and recreation, TNJ offers enriching activities like dance, music, gymnastics, taekwondo, skating, drama, etc.
Timely competitions with compulsory participations are held to overcome consciousness, nervousness, stage fear, etc.
These are targeted at promoting a sense of expression and reciprocation.
Workshops for students
These are intended towf our children with additional practice and expert guidance.
Topics covered are:

Story recitation with actions and dramatization
Creative art concepts
Communication skills , etc
Stage training
Experiments and cleaning up activity
The expertise
Focused and unique plan for students so designed by school is executed by well trained and highly qualified teachers.
The school too initiates on giving a special training to our teachers for the best output.
Teachers continuously strive to uplift the inner qualities and polish artistic skills that each child possesses.
The Tri-bond
TNJ takes up responsibility of maintaining a strong tri-bond, the parent-child-teacher bond, aimed at nurturing children with creativity and utmost care.
Various sessions and programs like 'positive parenting' are arranged at school from time to time to attain the quality.
Complete training is given to parents and especially mothers on

Child psychology
Writing patterns
Communication skills
Creative concepts, and
Most important of all, acceptance of each child being special in its own way.

Also, the school continuously makes efforts to avoid any sort of indirect or direct competitiveness amongst the students or comparisons from parents.
'Every child is the best and our priority is to explore the best out of each child.'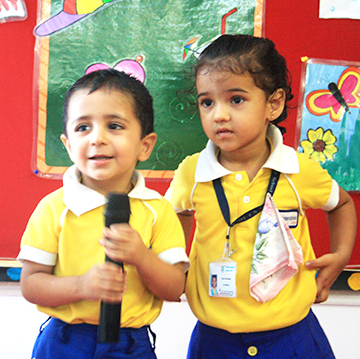 Results delivered
The school has adopted unique concept of fundamental education and the standards set by the institution are high.
The results so delivered show exponential growth of each child.
It is delivered through the self-directed activities with an abundance of time for children to explore, create, experiment & express themselves.
The programs provide opportunity to develop the following:
Listening and understanding skills
Vocabulary
Predicting and sequencing
Confidence in self expression
An awareness of other languages
An appreciation of story and verse
Questioning
A sense of rhythm of language
Fluency of language
TNJ has a strong history of contributing to inner silence, inner happiness and smiling faces of the tiny tots. Adding to it, the satisfaction of parents and their support makes it easier for the school to mark childhood as a journey of learning and not a race of competitiveness.